Dear Craig,
Reasons why you should consider me for your girlfriend/for marriage (tell me if I'm moving too fast):
1. I don't mind if you're half man half fly, full man or full fly, I'll love you either way. And I don't even know what a Delorean is, or why you'd be naked, so we're covered on that.
2. I can probably even come with you time travelling. I've been known to indulge in a little time travel myself, its something that I'm very cultured in. Maybe we could have a date sometime in the year 362BCE, or the year 3300, your choice, I'm pretty laidback.
3. I know how the GFC can affect you, or at least, I can pretend to know. Anything for you.
4. I think tights on men are pretty gay too.
5. I appreciate a man with an extensive DVD collection. It'll complement my extensive MP3 collection.
6. I have plenty of toothpicks.
7. I have a big TV.
In case you can't read it:
Right -
I'm pretty sure I've invented a time machine. All going accordance to plan I'll materialise right here at 11:37AM on Friday. This is just a courtesy note to make sure you're not standing at this spot at the time. Things might get quite messy if you are. Also, I won't be arriving in a Delorean, be naked or be half man half fly, this isn't the movies you know. -- Craig.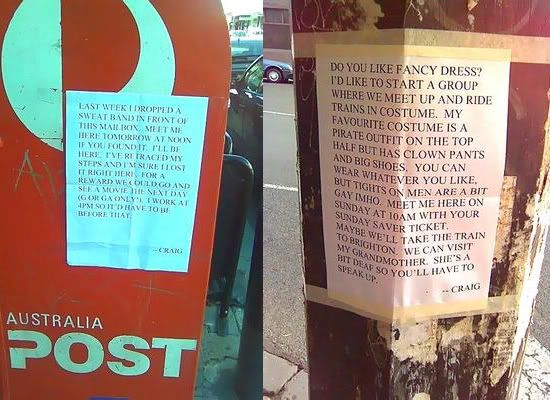 Left -
Last week I dropped a sweat band in front of this mail box. Meet me here tomorrow at noon if you found it. I'll be here, I've retraced my steps and I'm sure I lost it right here, for a reward we could go and see a movie the next day (Gorga only!) (?). I work at 4PM so it'd have to be before that. -- Craig
Left -
Will the global financial crisis (GFC) affect me? I don't know much about it so if you know and would like to tell me then meet me here at 4PM tomorrow. I'm sure you know a good place aorund here we could go to talk. If not, bring a friend who does. As payment I could take you bowling at strike, but only midweek before 6PM and your friend will have to pay for himself, sorry -- Craig.

Left -
Looking for a girlfriend, I'm 35 and I have an extensive DVD collection. I can cook a little and will even do some cleaning. If you have a big TV then meet me here at 6PM Friday and we can go on a date. It'll be fun. I'l be wearing one white thong and one brown thong so you can recognise me -- Craig.
More of Craig's work